The Crafting Blog
Welcome to Craft Schmaft. We're your one stop shop when it comes to everything to do with crafting. You can expect tutorials on everything from glass blowing to origami, quilling to cake decorating.
We love reviewing the latest crafting machines. Whether it's a 3D printer, heat press, pottery wheel or kiln, you can be sure that we've got the low-down on the tools most recommended by our in-house experts and readers.
Get started by choosing what interests you below:
Hands On
Tutorials and hands-on guides for crafty kids and adults alike. Simple steps for projects that you can make entirely with your hands without the need for machines or fancy tools.
---
Featured In Hands On
Let's Get Digital
Time to revolutionize your crafts with the latest high tech devices. We review the latest 3D Printers and DSLR Cameras, as well as provide you with amazing photography tips and tricks.
---
Featured in Let's Get Digital
Art Class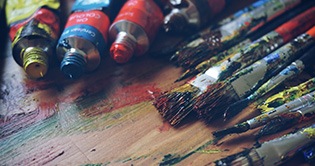 Optimize your artistic skills with our tutorials. We cover everything in between painting and drawing, as well as going deep on specialist skills like pottery and calligraphy.
---
Featured in Art Class